---
The SuperTrickler ST101 brings to the market a new class of gunpowder dispensing machines.

Rather than just dropping powder, the SuperTrickler has been designed from the get go to be part of a compact system approach to reloading, which is affordable to the home user.
Apart from the precision balance it does not rely on third party products and has a responsive touch screen interface to a stand-alone microprocessor that enables a powerful environment with features such as laddering, data logging, automatic power up, robotics interface and much more.
When true precision matters for reloaders that want more, the SuperTrickler is a very fast, feature rich, expandable & future proof investment in the art of ammunition reloading.
Introducing the SuperTrickler ST101 Gen2.

The Gen2 model is a natural evolution from where we started, and has improvements in many areas:

1. All plastic parts for the housing will be made from AntiStatic Plastic (in Gen1, only some where)
2. The internal motor/tube housing has significant improvements including being 3D SLS printed by the Danish Technology Institute.
It is now 90% nylon dust and 10% steel dust to make it much stronger and able to be printed to tighter tolerances.
Some design changes include the bearing holes being reduced to decrease possible wobble in the bulk tube.
3. The Vibrating tube is now CNC machined Aluminum
4. The Motor Window and Powder Exit/Drain parts are also now molded instead of 3D printed.


WARNING
DO NOT USE WITH BLACK POWDER: This equipment is designed and approved for smokeless gunpowder
only.
DO NOT USE WITH FINE GRAIN POWDERS: Using very fine-grained powder in the SuperTrickler can cause
issues and MAY void your warranty. Examples of such powders are H110, Vihtavouri N310 and other very
fine-grained spherical powders. (These tend to look and feel like very fine-grained sand).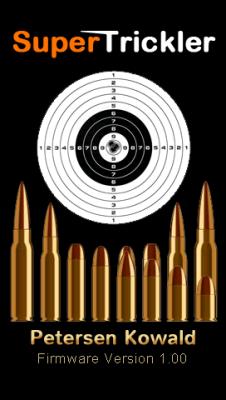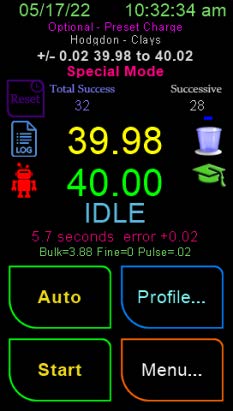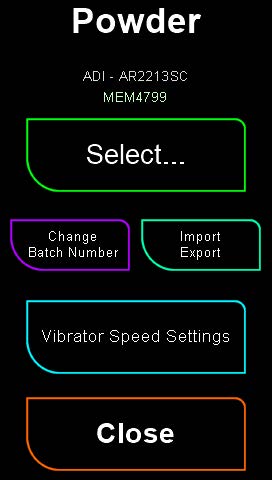 Powder Selection

The SuperTrickler has a database on the micro-SD card that keeps a record of every powder.
Ladder Test

Ladder Mode is designed for ladder testing, which is making a range of loads to find the specific charge that is most accurate.